Icarus Productions' GameBoy Color team consists of 5 young, dynamic programmers and artists, who are devoted to bring top-notch games to the gamer. Ever since we became licensed Nintendo developers, we have been working on various new technologies to push the GameBoy Color's hardware to its limits.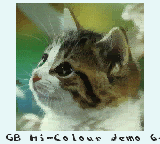 Please take a look at our HiColour library, which brings more than 2000 colors at the same time on the GameBoy's screen instead of the factory default, 56. With the help of a user-friendly converter, pictures and movies can be easily converted from PC format to our own HiColour format useable on the GameBoy Color. Special filters prevent the final pictures from looking washed out.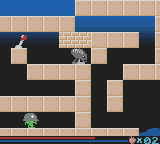 Our very first GameBoy Color production was a new version of our side scrolling adventure game "Sqrxz", which takes full advantage of the handheld's hardware capabilities. Unlike most other side scrollers, Sqrxz involves brain work to solve the trap-filled levels.
The current beta version has passed the color approval test by Nintendo, and we would appreciate it very much if you took a look at this page to get an idea of what we are planning to do. In short, the finished version is intended to have various scenarios, more colorful graphics (current beta already features 70 colors), additional game elements, bonus levels and much more.
Of course, we are also interested in working for other companies and publishers on the games of their choice. With the help of our own technologies, such as HiColour, dynamic scrolling, digital sound, ..., you are ensured a finished product of staggering quality.
Ever since information about the GameBoy Advance surfaced the light of day, we've been interested in it as well, and are already gathering information so we can ...
In case we've got you interested in our projects, please e-mail Andreas Ess for further information. Thank you!
We have more projects in the works and will update this page accordingly with updated infos on them, so be sure to check back soon.